MyGet support for multiple logins (and GitHub)
Last week, we've deployed a major update for MyGet. Next to support for pushing packages to other feeds and the new MyGet Gallery, we've done some updates to our authentication mechanisms. From now on, you can link multiple social identities to your MyGet account. For example, I've linked Google, Facebook and Windows Live ID to my own account so I don't have to think about which account I have to use to login.

As a bonus we now also support GitHub as an identity provider. This enables you to log in to your GitHub account and be logged in across all GitHub related websites using a single sign-on experience.
You can set up these multiple identities (and GitHub) on your profile page. Follow the Add identity provider hyperlink and complete the process.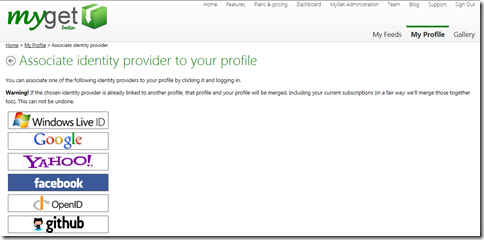 Happy packaging!