MyGet now offered through the Microsoft Azure Store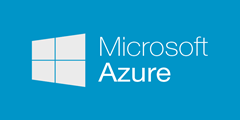 We are happy to announce that MyGet partnered with Microsoft to be included in the Microsoft Azure Store. This is our second partnership with them, since we also integrate with Visual Studio Online. The Microsoft Azure Cloud is widely used to build and deliver applications to end-users. Developing these applications could greatly benefit from using a package management solution to streamline development, and that's where MyGet comes in.
Having MyGet available in the Microsoft Azure Store allows developers and team leads to create MyGet accounts for themselves or their team members, whether free or one of the paid plans. There are no separate bills to be paid: MyGet will be part of the monthly account statement or Enterprise Agreement.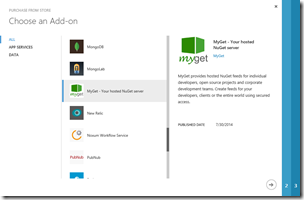 If you are a Microsoft Azure customer, here's how to create a new MyGet account:
Go to the Microsoft Azure Management Portal
In the bottom toolbar, click New and select Store
In the Choose an Add-on dialog, select MyGet and click next
In the Personalize Add-on dialog select the MyGet plan you want to sign up for.
If you want to create one (or more) paid subscriptions, you can use the promotional code STORELAUNCH, which will give you a 25% discount during the first 6 months of the subscription (code valid until end of August, 2014).
Once the subscription is created, click Manage in the bottom toolbar and pick the username and password you wish to use for your MyGet subscription.
If you are an existing MyGet user and would like to make use of the Microsoft Azure Store integrated billing, contact support and we will make it happen!
Happy packaging!